Our Farmers & Suppliers
On this page we would like to introduce you to some of our farmers and suppliers.
Do you produce a product yourself that you think would fit well in one of our boxes? Then contact us via this form.
Cheese farm van Veen Zoeterwoude 
The monumental farm of the Van Veen family is located in the Zoeterwoudse rustic hamlet De Weipoort. The old characteristic buildings, including a house, boenhok, churning mill and wagon shed, date from 1740. They are the third generation of Van Veen who lives and works here. Grandfather started the farm here in 1913. On October 9, 2013 the farm received the designation 'Purveyor to the Royal Household'.
Weipoort
The Weipoort is part of 'the Land van Wijk en Wouden'. This is an open area consisting of reclaimed land and peat meadow polders, in which the landscape is supported by the current agricultural companies. Such a beautiful and valuable landscape, rich in cultural history, natural value and regional products, is a source of enjoyment and deserves their protection.
Farmer's cheese
Sjaak and Karin van Veen's company covers 34 hectares of grassland. In addition, land is also rented in various places. Part of the grassland consists of clay and peat soil, which still contains the very old creek ridges. Furthermore, the allotment is typical for this region.
In addition to the traditional Gouda Boerenkaas, the farm also makes farmhouse cheeses in the shape of a heart and tulip.
Pennings Farm Warmond
Dairy farm Pennings is located in the polder landscape between Leiden and the Haarlemmermeer and is located directly on the Kagerplassen. The farm was founded around 1930 and consists of more than 33 hectares of grassland, 55 dairy cows, 30 young stock and a number of sheep and goats. From the very beginning, cheese has been made on the farm and at that time the sale of it at home started immediately. Soon sales went well and in addition to butter, cheese and eggs, the range was expanded with all kinds of traditional products. Dairy farm Pennings has been a member of the Cooperative Association of Land Shops in the Netherlands since 2001, which means that the range in the shop has increased even further. There is close cooperation with other Land shops and different products are mutually exchanged to keep the range varied. Landwinkel Pennings offers not only farmhouse cheese, but also meat, yogurt, ice cream, honey, flour, wine and fruit juices. Animal-friendly preparation and natural quality are characteristic of the products.

Vierhuizen farm
Boerderij de Vierhuizen is a small organic family business, located on the border of the municipalities of Zoeterwoude and Leidschendam-Voorburg. It is a dairy farm with about 50 dairy cows, 20 calves and heifers, and 5 ewes (mother sheep). Part of the milk is used on the farm to make real farmhouse cheese of special top quality. This cheese is sold under its own label (Wilde Weide Kaas) to restaurants and specialty cheese shops in and outside the Netherlands. There is also a shop on the farm.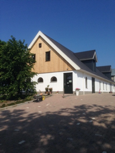 De Vierhuizen farm works according to biological principles. Since 1 October 2011, Boerderij de Vierhuizen has been wearing the well-known, exclusive EKO logo.
An important aspect of Boerderij de Vierhuizen is nature management. Almost all the land, about 40 hectares in total, is a nature reserve. Here nature takes precedence. Meadow birds, butterflies, frogs and other animals are just as important as the cows. Also in the yard all kinds of measures are taken for the flora and fauna.
Groene Hart Cooperative Zoeterwoude
In the Netherlands there is a place where for generations we have worked hard on our daily necessities of life: good food! That place is The Green Heart of the Netherlands. An area that starts on the outskirts of Amsterdam and extends through Utrecht to the Drechtsteden. There are farmers and craftsmen who, as the Groene Hart Cooperative, have combined their strengths and products under one brand: STREEK.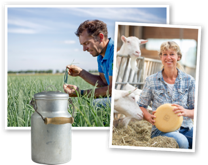 STREEK stands for real products: Delicious cheese, dairy, vegetables, meat, fruit and more: sustainably produced and made from our own Dutch soil. These STREEK products are made by men and women who work hard from morning to night and have one goal: to provide a high-quality and honest product. Food that you can be sure that it has been made or harvested with love and dedication and that also comes from the region. How fresh do you want it? Due to the short distances between producers and consumers, the products can be delivered fresh. Not always for the lowest price, but also without concession in quality and taste. We want products from the region to be accessible to everyone who consciously wants to choose locally produced food.
Grandma Apples Treats Leiderdorp
This is Sandra Dool (Grandma Appel for the grandchildren) and she makes all the delicacies herself in the traditional way in her own kitchen. Many fruits come from our own garden or have an organic background. She tries as much as possible within the Green Heart to obtain fresh and unsprayed fruit to make delicacies. Think of halva jam, chutney, syrup, dried fruit and vegetables, plucked cream, etc. She uses as few additives as possible to preserve the pure flavors.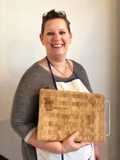 Hoeve Biesland Delfgauw
Hoeve Biesland is a biodynamic farm with the Demeter quality mark in Delft, where they produce meat, bread, raw milk and vegetables and offer labor-based daytime activities. The animals graze in nature reserves, have a lot of space and are given as little antibiotics as possible. But they also work without poisons or fertilizers, so that the soil remains healthy and the nature reserve around the farm has a high biodiversity. In addition, their raw materials remain within the company as much as possible, which is part of "Circular agriculture". Here they work together on tasty products that they bring from the countryside to the city. They sell the products in our busy farm shop, among other places. But they also supply the catering industry, institutions and shops in the city. They are also active in landscape management in collaboration with Natuurmonumenten and Staatsbosbeheer. Hoeve Biesland also runs 100% on solar energy. They use ditch cuttings from the area as bedding for the cowshed. For example, they make fertile compost from something that is normally seen as a "waste product". Gardeners and arable farmers in the area use this compost on their land. We process felled sick trees from the area into firewood.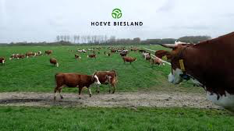 Boer 'n Winkel Ter Aar
My name is Corrine Noordam, I set up the Boer 'n Winkel to teach people how deliciously tasty and easy to prepare veal.
Because the European government can no longer be ignored in today's livestock farming, we have a transparent and healthy climate for our calves based on our own vision. Of course according to the standard set by the government. But like to go a step further by treating the animals with care and love. Something that no law can oblige, but you can taste it!
Based on years of experience from generation to generation, we believe we have the right formula with the care for our calves and your meat.
Be surprised and take a look at the Boer'n Winkel on Oude Kerkpad 9b in Ter Aar.
***
This is a selection of the suppliers who supply products to us. If you also have products that are suitable for our boxes, please let us know via [email protected]. Then we look at the possibilities to add the product to our range.